Based on the Central Coast of California EDNA Contemporary showcases artwork by exceptional emerging to established artists. We strive to break down traditional barriers by creating a relaxed and personal environment to view artwork and connecting collectors with art and the artists that enrich their lives. We support our community by donating a percentage of event sales to local nonprofits, creating a scholarship for students, offering consultation services and introducing world class artists to the Central Coast and beyond.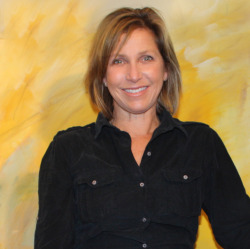 Sheryl Chesnut, Gallery Owner
As artists rely on gallery representation they often miss seeing their work installed and enjoyed by collectors. This interaction is something Sheryl Chesnut hopes to bring to both the artists and collectors who come to EDNA Contemporary.
Sheryl graduated from UC Berkeley and UC Santa Barbara with a Bachelor of Fine Art and a minor in Business. She worked for years in marketing and design before returning to a career in fine art. Finding the perfect piece of artwork to enhance your home or office can be difficult or intimidating; Sheryl's love of art and design and her personal relationship with artists will enhance the process of choosing art for novice and seasoned collectors. Her enthusiasm to facilitate connections between artists and buyers influenced her to further consider the role of art in a community context. EDNA Contemporary is committed to donating a percentage of sales to local organizations as a way of giving back with the belief that fine art can foster systems of interdependence and support.